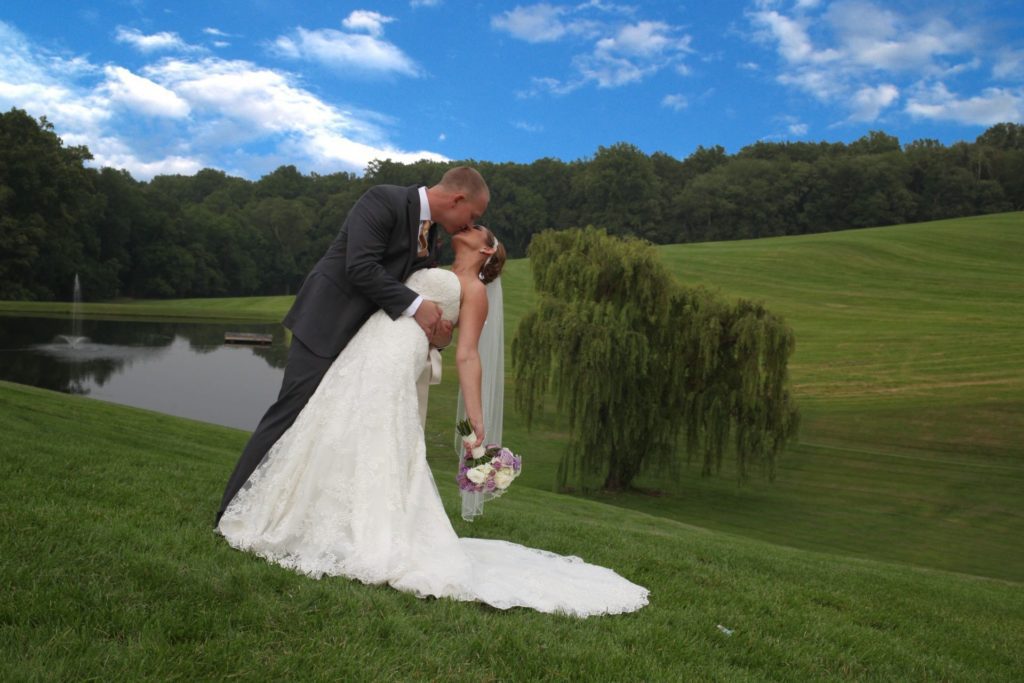 Private Country Wedding Venue in Frederick Maryland
Set in the back of 300 acres of rolling hills and absolutely zero road noise, Morningside Inn is the preferred farm wedding venue in Frederick, Maryland for weddings with 200 or fewer guests. From the moment guests pull into the private entrance and begin the mile drive through gorgeous rolling farmland to our barn wedding venue, a sense of calm surrounds as sounds of traffic fade far away. Morningside Inn is one of the favorite outdoor wedding ceremony locations in Frederick because of the gorgeous views, convenient amenities, and excellent service.  If you are looking for a wedding venue in Frederick, schedule a private tour and receive a "to-the-penny" estimate.
Ready to find out more?
Contact us to receive a "to-the-penny" wedding ceremony & reception estimate.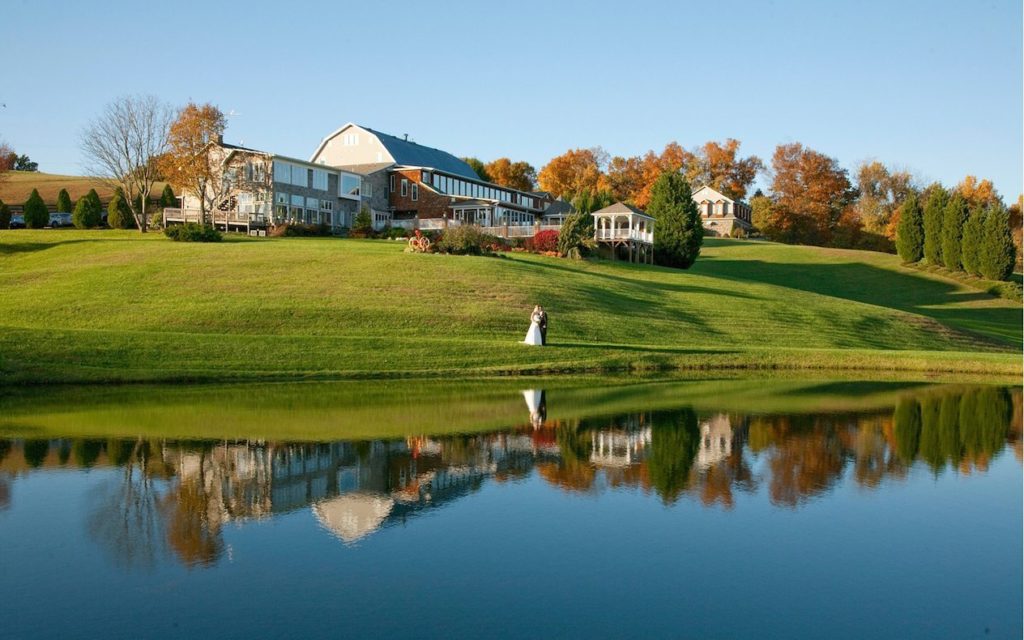 Wedding Ceremony Site in Frederick
Whether rain or shine, Morningside Inn weddings are surrounded by the natural beauty of 300 private acres. During an outdoor wedding ceremony, as bride and groom exchange vows on the covered pavilion as guests relax in comfortable chairs on the red brick patio. The outdoor ceremony site is so quiet that many visitors are surprised that such a private Maryland wedding place even exists. In the winter months or in the case of inclement weather, the wedding ceremony is held in the reception room as guests enjoy the same gorgeous view. Guests of Morningside Inn appreciate the beautiful country view and quiet serenity, in fact, customers review Morningside Inn as the perfect wedding venue in Maryland.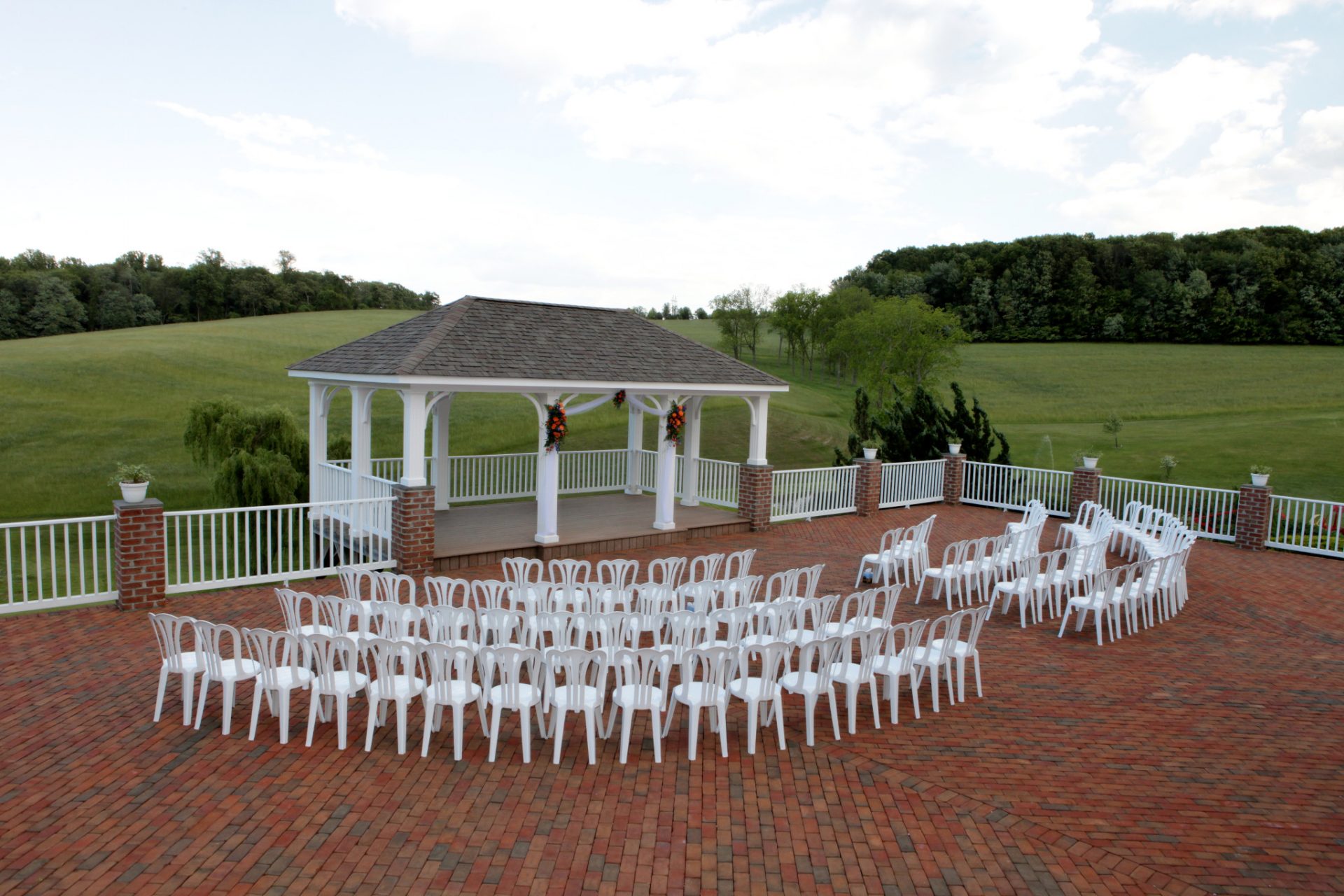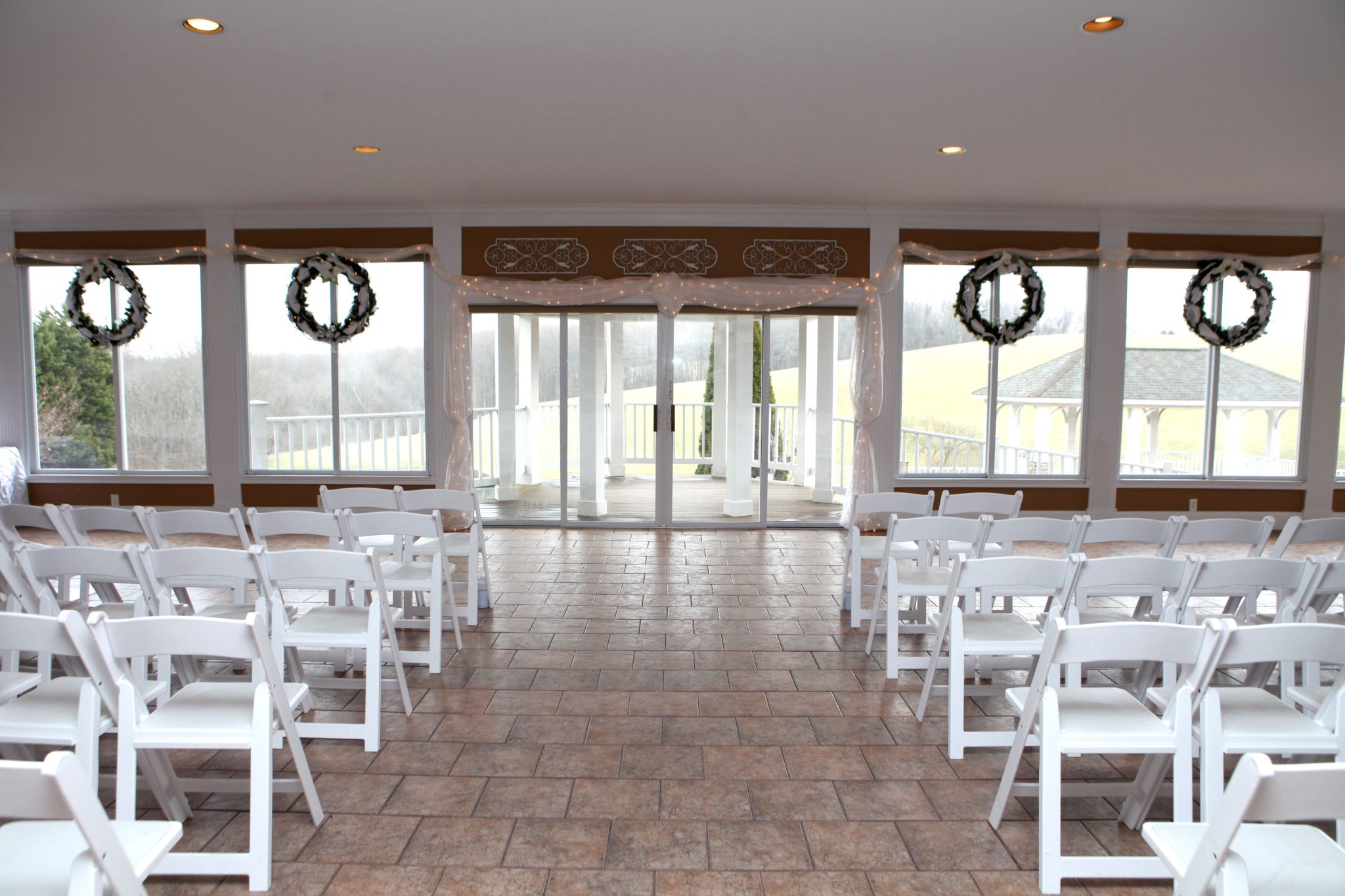 Of all the wedding venues in Maryland, Morningside Inn has one of the most spacious bride's rooms. The "room" is actually two large adjoining rooms with unique and gorgeous furniture. One room is a dressing area. It has a full bathroom with a shower, a wall to wall vanity, two sinks, and plenty of mirrors. It's a perfect space for the bride and all of her bridesmaids to prepare for the wedding. The other room is a sitting area with a large unique leather couch, four chairs, and cable television. There is also a second full bathroom with steam shower.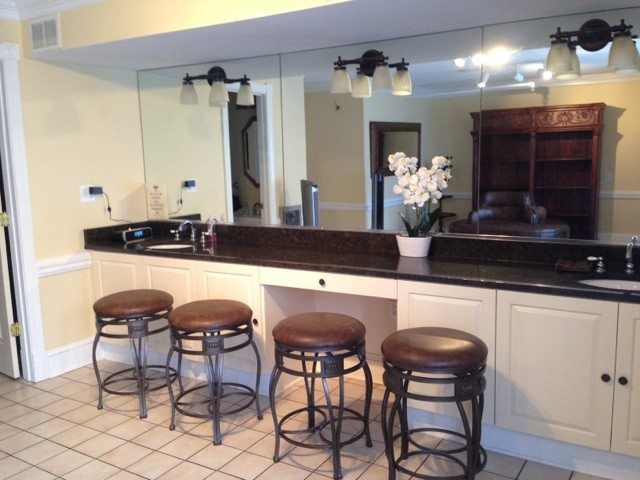 Morningside Inn is one of the few Maryland wedding venues that provides such a comfortable room for the groom. The room has a seating area with cable television and a large dressing area with mirrors and a shower. The bride's room and groom's room exists on opposite ends of the building. With gorgeous views in every direction, the property is expansive enough to create beautiful outdoor wedding photographs without the groom gaining a peek at the bride!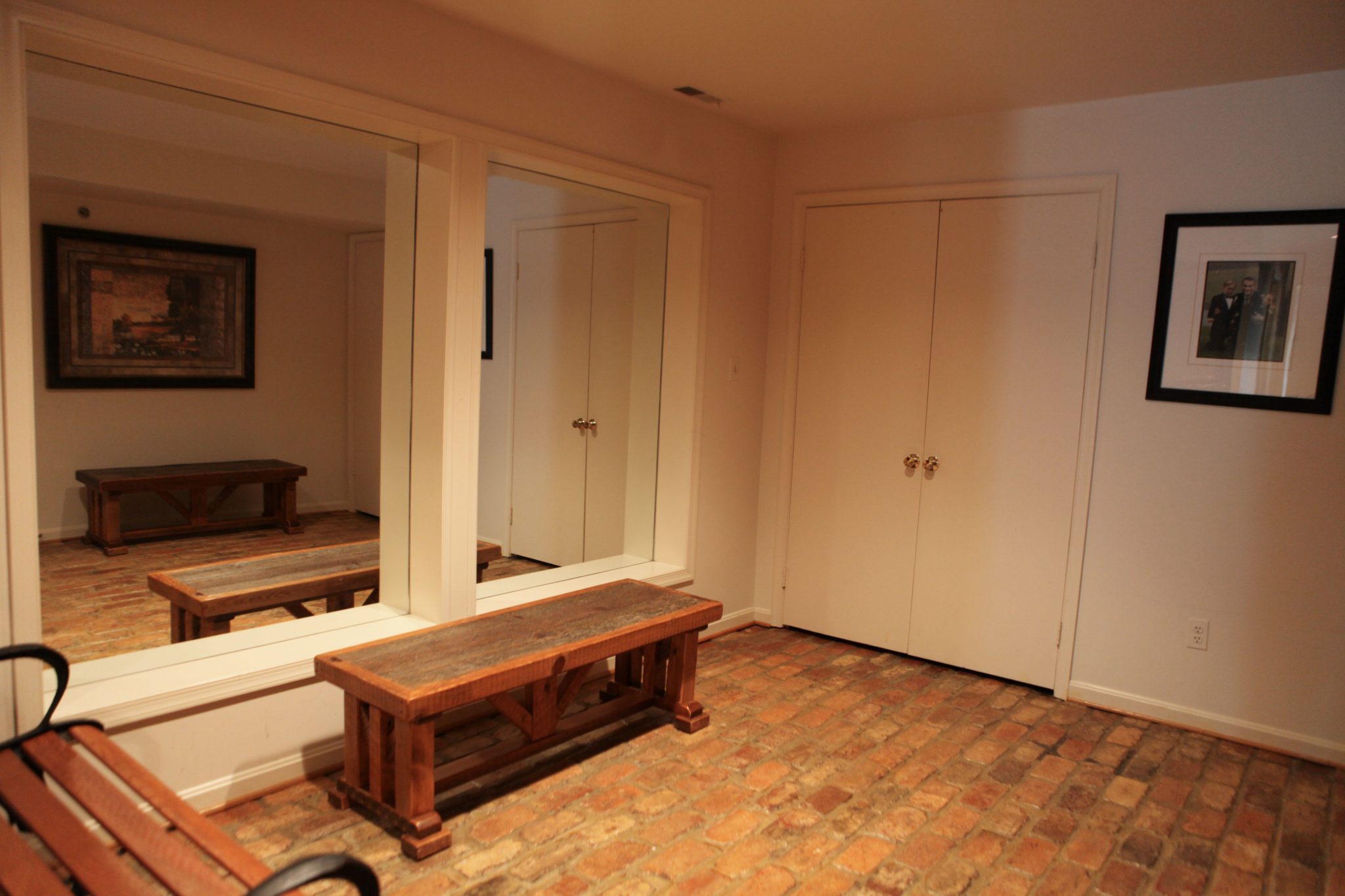 At Morningside Inn, there are not "wedding packages" to choose from, each celebration is unique! While we do offer many delicious menu choices, our brides are free to create a completely custom menu by meeting with our classically trained chef, Tim Erfourth. Tim prepares every dinner with the freshest ingredients and loves to create unique offerings per bride's request.
Country Wedding Venue in Frederick Maryland
Morningside Inn is not just a wedding venue in Frederick Maryland; it is a unique and serene destination. The dining room is welcoming with natural wood floors, a stone fireplace, and gorgeous natural post & beam vaulted ceilings. Large windows fill the back wall, providing natural light and an expansive view of green rolling hills and three ponds. After dinner, clean up is left to our staff, as guests follow either of the two grand staircases leading to the wedding reception room on the lower level. The reception room has large windows offering panoramic views of the gorgeous grounds. Guests love the change of scenery and opportunity to mingle with other guests after dinner when the party moves to the reception room. Morningside Inn is handicap accessible, and our attentive staff is always happy to aid guests.
Complimentary Wedding Coordinator
With over twenty years of experience, Morningside Inn has the most confident and experienced wedding coordinators in the area. Every bride is provided a complimentary wedding coordinator to assist in wedding planning, rehearsal, ceremony, reception, and send-off. Some wedding venues claim to take care everything, but at Morningside Inn, you can truly relax and enjoy the moment your true love.
Ready to Find Out More?
Contact us to receive a "to-the-penny" wedding ceremony & reception estimate.

Frederick Wedding and Reception Frequently Asked Questions
Jan 23, 2021
Dreamy Fairytale Wedding
Morningside Inn feels like you are in a dream. At this venue you get a little bit of everything. There is a country charm with beautiful corn fields to greet you and your guests. The venue almost looks like a country barn but when you get inside it's castle-like with arched stone walls and panoramic views. Outside there is a enchanting willow tree with a pond. Throughout our ceremony we could hear the water fountain and the birds, it was so peaceful. Morningside Inn is truly breathtaking. I could not have asked for a better venue. Melissa the coordinator...
Jul 24, 2020
Saturday morning wedding
We were so pleased with the results from the venue. The coordinator, Melissa, did a great job keeping things running smoothly. The food was very fresh and tasty, and the servers did a nice job taking care of our guests. Morningside provides such a spectacular view and ambiance, making the wedding and reception even more enjoyable. We highly recommend this venue.
Jan 17, 2020
Our Perfect Fall Wedding
My husband and I were married at Morningside Inn on October 13, 2019. Our day was absolutely perfect and I would highly recommend booking Morningside for your wedding too! The planning process was so smooth from when we first toured the facility to our rehearsal dinner. Our coordinator, Melissa Jerome, was so helpful and reassuring throughout the entire process I don't know what we would have done without her! Morningside was even accommodating enough to give some of our family members a private tour (not scheduled) when they were in town visiting...
Jan 13, 2020
Could not have asked for a better day!
Our wedding at Morningside in September 2019 was absolutely perfect! The staff was super attentive to everything we needed both leading up to the day and actually on the day. I have been in numerous weddings and none were as seamless and organized as ours, with the help of our coordinator Melissa. My husband and I were really able to enjoy the day with our friends and family rather than stressing about all the small things. We fell in love with the event space the moment we set foot on the property and it did not disappoint on our day. Our guests...
Dec 2, 2019
So Wonderful!
Lauren and the staff at Morningside Inn are amazing!!! I am not a huge worrier; but I did have a million questions about the venue, wedding day of timeline and etc. Lauren was so helpful and great at everything. She made sure our day was great and I am so pleased we chose Morningside as our venue!