Deciding on a wedding guest list can be very stressful! Who gets the invite? Who goes on the B-List? Who will just get a wedding announcement? No one truly wants to have to go through the process; everyone wants to just skip to the point once invitations have been put in the mail.
Coming up with a rough figure for your wedding guest list can be beneficial in so many ways and should be one of the first steps in the planning process. Venues do have a maximum capacity and that number can help decide whether it's the venue for you or if you need to look elsewhere.
Even though venues can hold a certain amount of people, that does not always mean that it should; some spaces can get pretty tight when filled to occupancy and no one wants their guests to feel like sardines.
Knowing your wedding guest list number can help you to ask questions while touring venues about how crowded (or not) space will be given the number of guests you are looking to invite. Try asking to see if the venue has photos of the space filled with different amounts of people to get an even better visualization.
Morningside Inn has a maximum capacity of 200 guests. Clearly, if a couple is looking to have a larger wedding than that, either Morningside Inn will not be an option or the wedding guest list will need to be pared down.
Also, when going over pricing you may realize that, in order to make your dream venue financially possible, the guest list might need to be altered. Many wedding planning websites offer virtual wedding guest list tools where you can plan out your first, second and maybe even third choices for guests. These tools will prove very utile since paper and pencil can get pretty messy.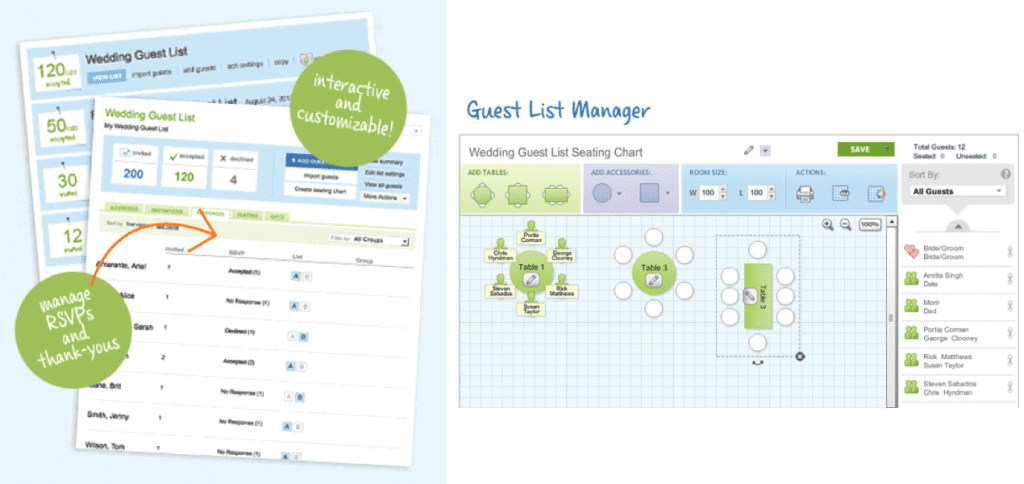 When planning your guest list, try not to overly stress out. Yes, it is important to be able to invite the people you want the most, but in the grand scheme of things your wedding is one day out of the year and potential guests such as your mom's college roommate will understand if they cannot be squeezed on the guest list. Another great site is Everything About Weddings Directory.
A selection of localized sub-directories that is a great resource to help plan your wedding.