The beautiful surroundings of Morningside Inn lead to comfortable, yet productive business retreats and special events with a "rustic elegance." Our unique combination of spaciousness and serenity is sure to impress. For twenty years, Morningside Inn has been the corporate meeting venue in Frederick Md of choice. There are two areas to assemble your group, the lower-level of the main building and the upstairs conference center of the Morningside Event Services building. Both spaces offer plenty of natural light and comfort to ensure a productive meeting.
Main Building Meeting Room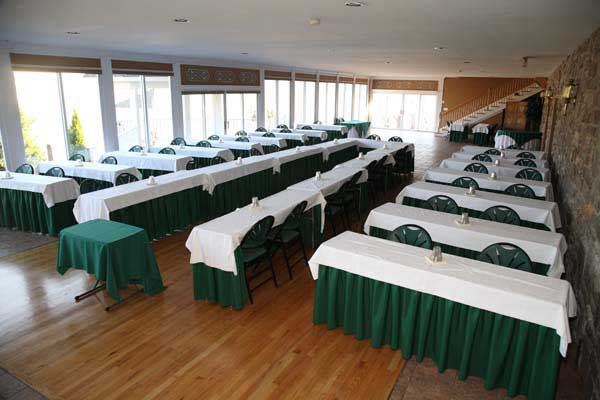 The downstairs meeting room venue can accommodate up to 200 guests. We can arrange the room to your specifications, but typically we set up for either U-shape panel discussions, which will seat 27 guests, classroom style for 90 guests, or auditorium style for 200 guests. The auditorium layout is ideal for presentations or lecture series. Wireless internet access is free and rentals are available for AV equipment such as LCD projector and screen, PA system, and easels with paper and markers. The conference center meeting venue in Frederick Md, in the Morningside Event Services building, is available for groups up to 49 guests. This room is the ideal place for smaller, more intimate retreats. The room is completely isolated from the main building for absolute privacy.
Event Services Meeting Room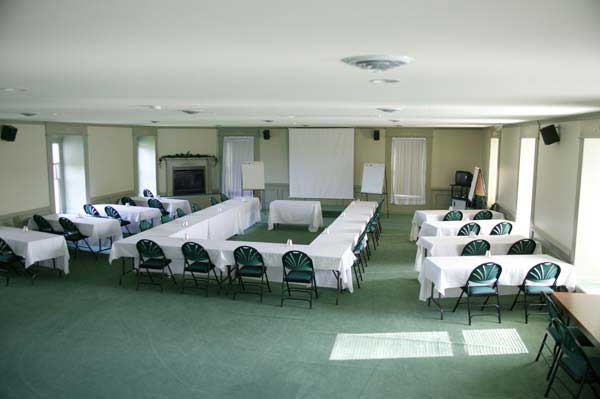 This conference room is full of large windows providing a glorious view of rolling countryside as well as plenty of natural light. There are two private restrooms as well as an open kitchen with refrigerator. We have all the equipment you might need for your meeting in this room as well, from AV equipment to wireless Internet service. Fax and copier services are available in the Main Building. We can customize the layout to fit the needs of your meeting space. Our dedication lies in hosting efficient and productive meetings.
We offer all required food services. Our delicious, fresh-baked, lemon-blueberry muffins have become a favorite of our corporate clients. Guests enjoy continental breakfast and break treats within the meeting space and lunch and dinner in the main dining room. The caring staff of Morningside goes out of their way to meet your needs and strives for a "perfect" event every time. The standard menu consistently earns compliments or work with our chef to create a custom menu. Chef Tim can create an excellent meal with consideration to your employees with special dietary needs. Breakfast, lunch, and dinner options range from casual offerings to formal, plated dinners. Tasty snacks are available for morning or afternoon breaks.
We would love to hear from you! Contact us directly by filling in this form, or give us a call at 301-898-3920.
Meeting Venue Frequently Asked Questions