1. Floating Candle Bowl
The floating candle in a glass bowl is an awesome way to avoid the high prices of floral centerpieces. There are many ways to make this simple centerpiece look extravagant. Start by choosing the type of bowl you would like to use, flat round bowls, fishbowls, or more cylindrical shaped bowls are all good options. This bowl sells on Amazon.com
for less than fifteen dollars! You can add different candle colors, shapes, and sizes to make the centerpiece coordinate with your colors and/or theme. If you set the bowl on top of a mirror it gives the centerpiece more of a full appearance without adding cost.
2. Submerged Flowers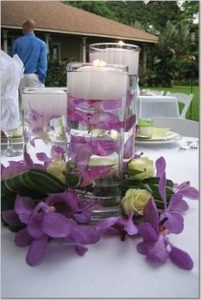 This is a great wedding centerpiece to use if you like the look of real flowers, but need to keep costs low. With submerged flowers you only need one or two to make the centerpiece look full. You can also add glass beads to the bottom of the glasses to match your colors. This video shows how to arrange a submerged flower arrangement. This was taken from a blog post on projectwedding.com, which outlines many different types of submerged flower arrangements.
3. Upside down wine glasses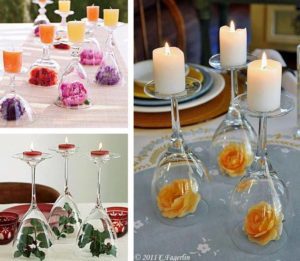 This centerpiece is good to use if you are just moving into a new place and still need some wine glasses. You can use real or fake flowers underneath wine glasses. You can add detail to this centerpiece by tying ribbon around the wine glass stems or placing the glasses on some kind of base (for example wooden slabs). This photo was taken from a blog post on Diycozyhome.com.
4. Glitter wine bottles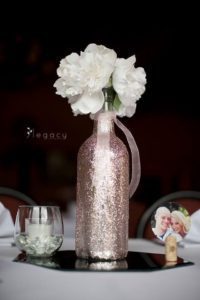 This is a great project for all you DIY brides out there. All you have to do is just save your wine bottles! After removing the label from the bottle, cover it with spray on adhesive or you can paint glue directly onto the bottle. Then just roll the bottle in your glitter. Using different size water bottles can give the centerpiece dimension. You could also stick a few flowers in the neck of the bottle. Read how to make a glitter wine glass here.
5. Pictures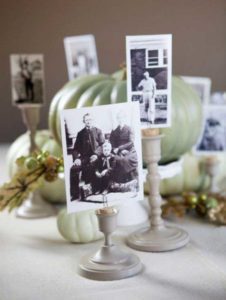 This is a great way to show off those engagement photos you took and a fantastic excuse to buy frames for your home! You can grab your from Home Goods, antique stores, or even yard sales. You can paint the frames colors that coordinate with your wedding then just fill them with your pictures. Get crafty! Use glitter, ribbon, and rhinestones to make your frames unique. Three pictures per table should be more than enough to fill the space. Just place a few candles around the photos and you are ready to go with a personalized wedding centerpiece. You have the option at the end of the night to let your guests take a photo home with them or you can use them to decorate your own place. This photo was taken from a blog post on something-borrowed-wedding.com.