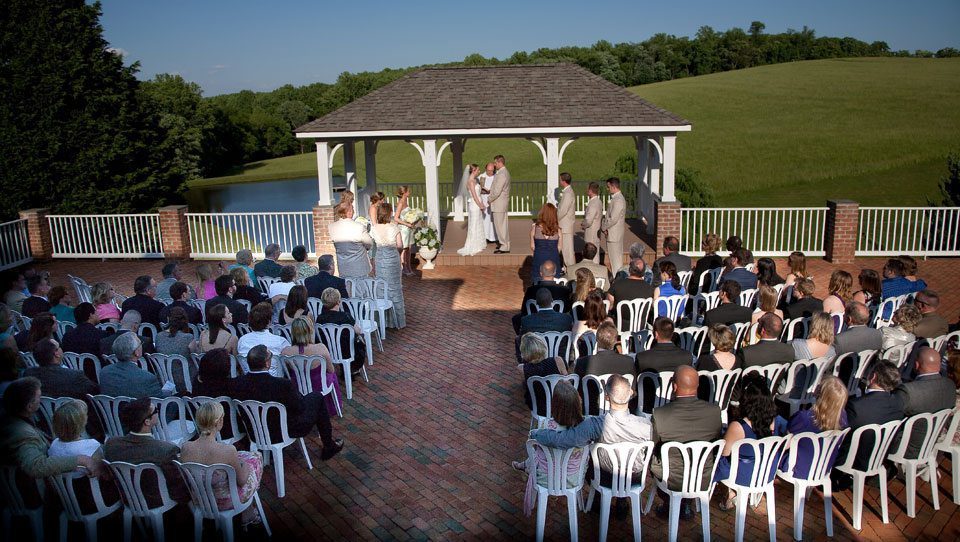 Nestled in the back of 300 acres of rolling hills with absolutely zero road noise, Morningside Inn is the preferred wedding venue in Frederick MD for weddings with 200 or fewer guests. Morningside is one of the favorite wedding ceremony locations in Frederick because of the gorgeous views. Driving the scenic road to this private estate creates a sense of calm as the sounds of traffic fade far away. Download this wedding venue checklist to compare Morningside Inn to other wedding venues.
Outdoor or Indoor Wedding Venue in Frederick Maryland

Guests can relax in comfortable chairs on the red brick patio during the outdoor wedding ceremony, and many are surprised that such a private Maryland wedding place even exists. Couples exchange wedding vows on an elevated covered pavilion. Guests will enjoy every moment of the ceremony in the blissful silence of nature. Indoor wedding ceremonies are held in the reception room and enjoy the same gorgeous view. Our clients appreciate the beautiful country view and quiet serenity, in fact, customers review Morningside Inn as the perfect wedding venue in Maryland.
Maryland Wedding Venue with Spacious Bride's Room
Of all the wedding venues in Maryland, Morningside Inn has one of the most spacious bride's room. The bride's room is two large adjoining rooms. The bride's room furniture is unique and comfortable. The spacious dressing room has a full bathroom with a shower, a wall to wall vanity, two sinks, and plenty of mirrors for an entire bridal party to prepare for the wedding. There is also a second full bathroom with steam shower. The sitting room is comfortable, with a large unique leather couch, four chairs, and cable television.
Morningside Inn is one of the few Maryland wedding venues that provides such a comfortable room for the groom. The room has a seating area with cable television and a large dressing area with mirrors and a shower. The bride's room and groom's room exists on opposite ends of the building. With gorgeous views in every direction, the property is expansive enough to create beautiful outdoor wedding photographs without the groom gaining a peek at the bride!
Country Wedding Venue in Maryland
Morningside Inn is not just a wedding venue in Frederick Maryland; it is a unique and serene destination. Once you walk in the door, the dining room feels warm and welcoming with natural wood floors, stone fireplace, and gorgeous natural post & beam vaulted ceilings. Large windows fill the back wall, providing natural light and an expansive view of tree-lined hills reflecting on three ponds. Our classically trained chef, Tim Erfourth, prepares every dinner with the freshest ingredients. After dinner, clean up is left to our staff, as guests follow either of the two grand staircases leading to the wedding reception room on the lower level. The large reception room has large windows offering panoramic views of the gorgeous grounds. Your guests will love the change of scenery and opportunity to mingle with other guests after dinner. Morningside Inn is handicap accessible, and our attentive staff is always happy to aid guests if needed.
Wedding Ceremony Site in Frederick
Over twenty years of experience as a Maryland wedding venue ensures that your wedding will be all you have dreamed.  If you are looking for a place for a wedding reception in Maryland that will help you every step of the way, then look no further! Morningside Inn provides an experienced wedding coordinator to guarantee the wedding day runs smoothly. She will help to coordinate your Maryland wedding ceremony, reception, and send off!  She will organize and direct your guests and vendors on your wedding day as well as keep your rehearsal on track which why couples love our Maryland wedding venue. It is like having a best friend in the wedding reception business. Unlike other wedding reception venues in Frederick, Maryland our experienced wedding coordinator will guide you through the planning stage until you walk down the aisle. Some Maryland wedding venues claim to take care everything, but at Morningside Inn, a Frederick wedding venue, you can truly relax and enjoy the moment your true love.
Wedding Reception Venue in Frederick Maryland
Wedding and reception packages last four and a half hours, an additional half hour is available for an extra fee. An event deposit and a contract are necessary to book a wedding date. Our wedding reception venue offers weddings at any time on Fridays and Sundays and Saturdays from either 11 a.m. to 3:30 p.m. or 6 p.m. to 11 p.m. There is only one wedding event during the designated time, which makes Morningside Inn different than most wedding reception venues in Frederick, Maryland.
Gracious attendants help guests locate the wedding reception and ceremony site. Wedding guests enjoy a lunch or dinner in the restaurant following the wedding ceremony and then proceed to the downstairs area for the wedding reception in Frederick, Maryland. Chef Tim offers traditional wedding menu selections and is delighted to work individually with couples to create a custom menu.
Maryland Wedding Memories To Last A Lifetime
The privacy and beauty that Morningside Inn provides have made it one of the favorite wedding venues in Frederick, MD for over twenty years. There are other wedding ceremony locations near Frederick but none as scenic and peaceful. Photographers love the incredible photo opportunities available throughout the 300 acres because every angle is perfect, there are no houses, roads, or buildings in the background!  The Crystal Lenz is the on-site wedding photographer, located walking distance from the main building.  Fantastic outdoor photographs are possible in every season around this Maryland wedding venue.  Aside from the fields of wheat, three ponds, green rolling hills, rustic stone wall, a gorgeous willow tree leaning over a pond provides another fairy-tale backdrop to this outdoor wedding venue in Maryland. If you are planning an outdoor wedding in Maryland and looking for wedding ceremony locations in Maryland, then Morningside Inn is a must see! Please read our wedding FAQ page if you have additional questions. To see more real weddings, read our wedding blog. To experience the privacy of 300 acres and zero road noise of Morningside, schedule a private tour.

Average rating:
18 reviews
Oct 12, 2016
Morningside Inn and Staff are Five Star!!!
The Morningside Coordinators and Staff are Five Star!!We had family and friends driving a good distance. Some arrived MUCH earlier than allowed, but they were welcomed and made to feel comfortable. Quickly water and sodas came out and offered.One guest commented on the fact that this was not your typical wedding. The atmosphere was classy yet cozy, comfortable and seemed very family oriented. Add that this is not the typical wedding atmosphere they were expecting. With the beautiful grounds and surroundings, they were made to feel like honored guests and truly enjoyed the unique experience.Chef Tim is a master in his work. The food was exquisite. Coming from a family of food critics Morningside passed the test with high ratings. I received comments on the London Broil, Salmon and Stuffed Shells. All food was kept hot and delicious. My daughter (the bride) especially loved the Cous-Cous Salad.We had a mix-up with our seating chart and Morningside made the matter appear to be a mistake on their part. Staff went out of their way to provide a solution that accommodated everyone involved. I must tell you that was a sincere blessing because it involved one of our head tables. Those types of problems can be delicate matters!Another guest commented on the coffee. "I haven't had a cup like that in a long time", he said.He wanted to grab the entire pot and bring it to his table.Our bar tender worked very hard. Not being a drinker I went around asking others how the drinks were, they all commented "EXCELLENT", "STRONG – no skimping", GOOD-good drinks!DJ Jim, awesome important person to move the event along. He got all pronunciations of the names correct and was a pure delight to work with. Every request that was made for music, he was able to accommodate. He obviously scoped the crowed and selected the right music and made the right comments to insure that everyone had a good time. Seriously I have never seen a dance floor so crowded.By the end of the evening the staff was family to us. We enjoyed each and every one of them and appreciated their support and hard work – especially on a holiday weekend!Everything was packed up as nicely as it arrived. The bride and groom goblets were rinsed out and wrapped in bubble wrap to ensure a safe ride home. The pictures and frames were carefully packaged any leftover favors and table decorations all cared for and returned nicely. Not one item was missing.We decided to select vendors recommended by Morningside and that was a good decision. I will addComments about the additional vendors on their web pages.We can't say enough about Lauren Conklin our coordinator. Her nice strong voice kept everyone in line and on time. All the wrinkles got smoothed out and my daughter got the wedding of her dreams.I highly recommend Morningside Inn.